There is an opportunity for the blogging community to come together supporting another blogger who has been brought to her knees. As I write this there is a campaign by Twittermoms (didn't know there was such a thing) to help out in any way.
I read Beth McGrew's Manic Mother blog regularly. This week I read her post with a lump in my throat as she told about the horrific words no mother ever wants to hear "Your son has cancer."
Ezra just turned two years old.
Rather than take up your time reading MY blog, I ask you to go to hers, read the story, see the pictures of Ezra and dig deep into your generous spirit to give whatever you can to help them. Beth has set up a way to receive donations on her blog either thru Paypal or credit cards. Another group put together a fund-raiser with bracelets for Ezra you could buy, proceeds to Beth. I'm leaving this blog up thru next week so everyone who stops by can see it, go to hers and help out. I know when you see Ezra and hear their story you will help - PLEASE - in any way you can!
http://www.manicmother.com/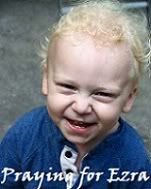 Thank you all so much!